SERVICES
Networking & Cabling
We at Computer Solutions Wales understand that a reliable and efficient network is essential for the smooth operation of your business or home. That's why we offer comprehensive networking and cabling services to help you get the most out of your network.
Our team can design, install, and service a range of network systems, from simple home networks to complex commercial setups. We can help you with everything from network design and planning to installation and ongoing maintenance.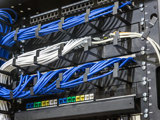 CCTV Installation & Services
NETWORKING & CABLING SERVICES WE OFFER:
SERVICES
Wired & Wireless Networks:
Our team can design and install a range of wired network systems, such as Ethernet and fibre optic cabling. For wireless networks, we can install a range of network systems, including Wi-Fi and mesh networks, that meet your specific needs and budget.
SERVICES
Server Installation:
We design server installations as part of small and medium-sized business networks, and can also provide hardware recommendations for both the servers themselves and the equipment necessary to keep them running efficiently.
SERVICES
Cabling:
We offer a range of cabling services, including installation and maintenance of structured cabling systems, fibre optic cabling, and data centre cabling.
SERVICES
Maintenance & Support
If you're experiencing issues with your current network setup, we're here to help. We offer ongoing maintenance and support to ensure proper functionality of your network system. 
LET'S SEE WHAT WE CAN DO FOR YOU
Don't hesitate to contact us to discuss your networking or cabling needs. We understand that every customer and property has unique characteristics that require personalised attention, and we take pride in providing customised networking and cabling solutions to meet your specific requirements. 
EXPERIENCED, PROFESSIONAL SUPPORT
GET IN TOUCH
Our team of experienced professionals is waiting to help with all of your technology needs, from network setup and maintenance to software installation and troubleshooting.
Click the "Contact Us" button below to get in touch.