SERVICES
CCTV Installation & Services
Do you want to enhance the security of your home or business? Or do you need support for your existing CCTV setup? At Computer Solutions Wales, we offer professional CCTV installation and services to help you protect your property and assets.
Our team of experienced technicians is skilled in installing and servicing a range of CCTV systems, from basic single-camera setups to complex multi-camera systems. We use the latest technology and equipment to ensure reliable and high-quality installations, and we can provide ongoing maintenance and support to keep your system functioning properly.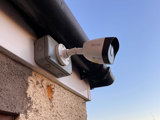 CCTV Installation & Services
CCTV SERVICES WE OFFER:
SERVICES
Installation:
We can help you design and install a CCTV system that meets your specific needs and budget. We can recommend the best cameras, recorders, and other equipment to provide maximum coverage and functionality for your home or business premises.
SERVICES
Maintenance:
Regular maintenance and servicing can help ensure that your CCTV system is functioning properly and providing optimal security. We offer ongoing maintenance and support to help you get the most out of your system.
SERVICES
Upgrades and Repairs:
If you have an existing CCTV system that needs upgrades or repairs, we can help. We can evaluate your current system and recommend upgrades or repairs to improve performance and functionality.
IN NEED OF SOMETHING A LITTLE MORE COMPLEX?
We understand that every property and customer is unique, and that's why we offer customised CCTV solutions to meet your specific requirements and budget. You can rest assured that no matter what type of CCTV solution you require, we have the expertise and experience to provide you with the optimal solution.
EXPERIENCED, PROFESSIONAL SUPPORT
GET IN TOUCH
Our team of experienced professionals is waiting to help with all of your technology needs, from network setup and maintenance to software installation and troubleshooting.
Click the "Contact Us" button below to get in touch.