SERVICES
Guest Wi-Fi
In today's modern world, having access to the internet is a necessity for both personal and business use. Whether you rely on expensive data packages on your mobile phone or utilise a guest Wi-Fi system, having reliable internet access is crucial. At Computer Solutions Wales, we offer a top-notch guest Wi-Fi service for businesses of all sizes.
Our guest Wi-Fi service is designed to provide reliable and secure internet access for your guests, and is fully compliant with public Wi-Fi access regulations. Whether you're running a restaurant, hotel, or office space, our guest Wi-Fi service can help you provide a seamless and hassle-free internet experience for your guests.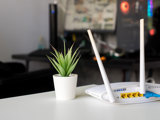 SERVICES
GUEST WI-FI SERVICES WE PROVIDE:
Services
Installation & Configuration:
We'll set up and configure the guest Wi-Fi service for you, ensuring that the network is secure and meets the specific needs of the business.
Services
Network Design:
We can design a new network infrastructure, or implement the guest Wi-Fi into your existing one. We'll ensure that the guest Wi-Fi service is reliable, fast, and provides comprehensive coverage.
Services
Management:
We'll provide ongoing management of your brand new guest Wi-Fi service, including monitoring and troubleshooting issues, upgrading firmware, and performing regular maintenance.
Services
Security & Compliance:
Our team will ensure that your new guest Wi-Fi service is secure and compliant with relevant regulations, such as the General Data Protection Regulation (GDPR).
YOU'RE IN SAFE HANDS WORKING WITH US
Our team of IT experts are very familiar with setting up, configuring, and maintaining network systems, including guest Wi-Fi systems. You can rest easy, knowing that your brand new guest Wi-Fi service is secure and conforms to regulations and guidelines. 
EXPERIENCED, PROFESSIONAL SUPPORT
GET IN TOUCH
Our team of experienced professionals is waiting to help with all of your technology needs, from network setup and maintenance to software installation and troubleshooting.
Click the "Contact Us" button below to get in touch.