Exciting News: Computer Solutions Wales Announces New Shop Opening and Website Launch!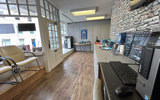 We have some thrilling news for all our valued customers and the tech community in Haverfordwest! After months of searching and planning, we at Computer Solutions Wales are ecstatic to announce the opening of our brand-new computer repair shop in the heart of town. And to make things even better – we're also launching our revamped website to provide you with a seamless online experience. Read on to find out more about our fantastic new developments!
New Shop Now Open in Haverfordwest:
Our new computer repair shop is now open and ready to serve you in the heart of Haverfordwest, providing you with easy access to all our services. We've completed the maintenance work, and the shop is up and running, fully equipped to cater to your computing needs.
What's in Store?
Our new shop offers all the usual services you've come to know and love from Computer Solutions Wales, as well as some exciting new additions. We're committed to providing a friendly, customer-focused environment where you can relax while our amazing staff take care of your computing needs.
And to make your experience even more enjoyable, we're offering complimentary cups of tea while you wait for your device to be fixed. So, not only will you receive top-notch service from our skilled technicians, but you'll also be able to unwind and enjoy a refreshing beverage on the house!
New Website Launch:
Alongside our new shop, we're also excited to announce the launch of our revamped website! We've worked hard to create a user-friendly platform that offers easy access to all our services and information about our new location. You'll be able to browse our service offerings, and stay up-to-date with the latest news and developments from Computer Solutions Wales.
Conclusion:
We can't wait to welcome you to our new shop in Haverfordwest and provide you with the excellent service you've come to expect from Computer Solutions Wales. Visit us today to experience our customer-focused approach and enjoy a complimentary cup of tea while we take care of your computing needs. In the meantime, explore our new website for more information about our services and updates. We're looking forward to serving you in our new location and continuing to be your go-to computer repair solution in the Haverfordwest area!
EXPERIENCED, PROFESSIONAL SUPPORT
GET IN TOUCH
Our team of experienced professionals is waiting to help with all of your technology needs, from network setup and maintenance to software installation and troubleshooting.
Click the "Contact Us" button below to get in touch.